Our new paper that just came out today in Marine Biology research suggests so:
Press release by Bureau Waardenburg/WUR:
Underwater discovery oyster bed reveals native oyster mysteries
The flat oyster, an iconic species that once covered 20.000 square kilometres of the Dutch North Sea bed and then disappeared, was rediscovered in 2016 in the Voordelta. Researchers dived deeper into this species to unravel its mysteries. Research shows that the flat oyster benefits from the presence of Japanese oyster shells in the area and 60% more epibenthic species are present if the oyster bed is compared to sandy parts of the sea bed. The results, published this week in Marine Biology Research, provide tools for the recovery of flat oyster beds.
Discovery of an iconic species
Flat oyster beds were covering large areas in the North Sea. 'Until the start of the twentieth century, some 20.000 square kilometres of the Dutch North Sea were covered with native oyster beds', says Wouter Lengkeek, marine ecologist and diver at Bureau Waardenburg. 'But in the last century the flat oyster almost got lost here due to overfishing, diseases and cold winters and only a small population survived in Lake Grevelingen.' He was thrilled when he discovered a flat oyster bed in 2016 of just off the Dutch coast. This underwater discovery opened up possibilities to study native oysters in their natural environment.
Pacific oysters to the rescue
The flat oyster benefits from the presence of Pacific oyster shells in the Voordelta: in the majority of cases, a Pacific oyster shell is used as an attachment substrate of flat oysters. Moreover, the species richness of the oyster beds is 60% higher than in the sandy areas in the immediate vicinity of the oyster bed. That is the conclusion drawn by researchers from Bureau Waardenburg, WMR, Sas consultancy and ARK nature development / World Wide Fund for Nature in a recently published scientific research in Marine Biology research: 'Return of the native facilitated by the invasive? Population composition, substrate preferences and epibenthic species richness of a recently discovered crustacean reef with native European flat oysters Ostrea edulisin the North Sea.'
Unravelling wild oyster mysteries
'The substrate preferences and habitat function of native oysters in the North Sea were a black box until recent, now we are able to study them in their natural environment', says Marjolijn Christianen (Wageningen University, working at Bureau Waardenburg when writing the article), 'These results show that conditions for the recovery of flat oyster beds on a local scale are present in the Dutch North Sea. And we have seen that substrate offered by the invasive Pacific oysters can contribute to the return of native oysters.' Nowadays, Pacific oyster beds provide large surfaces with hard substrate in coastal zones. These beds are not popular for recreational and net boating, while flat oysters can thrive here once again.
Oyster restoration momentum
Recently, and not only in Europe, but worldwide, there is a lot of attention for restoring native oyster beds. In historical documents native oyster beds are described as rich ecosystems where other sea creatures flourished and fish stocks were abundant. However, knowledge about the characteristics of native oyster species are lacking and source populations have disappeared. Karel van den Wijngaard, ARK / WWF 'The discovery of this oyster bed is accelerating the possibilities for flat oyster restoration in the Netherlands. Knowledge about the flat oyster in its natural environment ensures that we can adjust oyster restoration plans to the requirements of the species and thus greatly increase the chances of success. '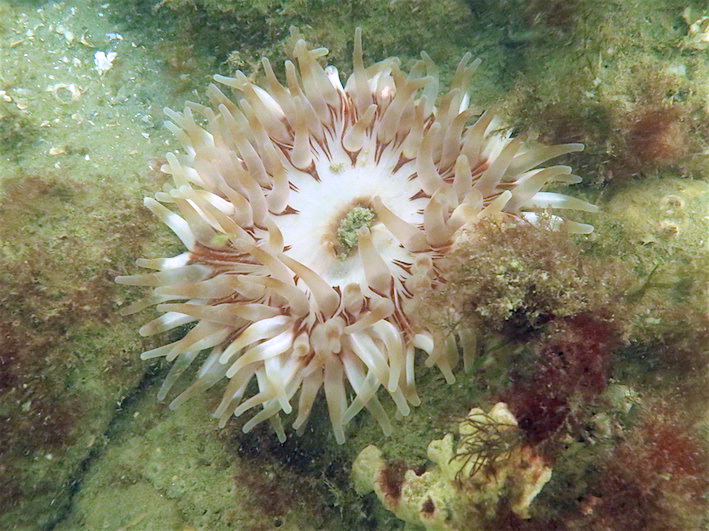 You can read the complete scientific article (open acces) in Marine Biology Research:
Christianen MJA, Lengkeek W, Bergsma JH , Coolen JWP, Didderen K, Dorenbosch M, Driessen FMF, Kamermans P, Reuchlin-Hugenholtz E, Sas H, Smaal A, van den Wijngaard KA, van der Have TM (2018) Return of the native facilitated by the invasive? Population composition, substrate preferences, and epibenthic species richness of a recently discovered shellfish reef with native European flat oysters (Ostrea edulis) in the North Sea. Marine Biology Research. DOI: 10.1080/17451000.2018.1498520
Text: Bureau Waardenburg, WUR
Photos: Bureau Waardenburg
Authors: Bureau Waardenburg, Wageningen University, WMR, Sas Consultancy, ARK Natuurontwikkeling, World Wide Fund for Nature Netherlands,