I just had a great time in Phuket and Trang in Thailand were the seagrass scientists of the world gathered for 11 days for the World Seagrass Conference and the International Seagrass Biology Workshop.
Here a group picture of al the people joining the ISBW inside the Emerald Cave after surviving the 80 meters of darkness to enter the cave in snake-formation: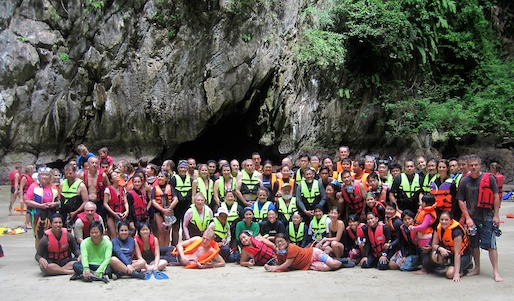 Part of our Workshop was a fieldtrip were we spotted the dugong feeding trails (pic middle) of the 40 dugongs that live in the area around Trang. Further searches of Dominik Kneer and me after the workshop only resulted in a observation of 3 vage brown silhouettes underwater which we lost in the waves after a boat passed by.
On our first night we released our floating flowers at the Loy Kratong festival (every full moon in November, pic right)
I presented my first exclosure experiment (seagrass with nutrient addition and mimicked turtle grazing) at the conference and received a 2nd prize in the student presentation competition, yeah.