4 sub-adult green turtles that we caught in Lac Bay are now equipped with satellite transmitters to study their movements and use of the seagrass meadows, (see  photos below).
The greens that forage in the shallow Lac Bay area are typically sub-adults. We selected some of the biggest turtles that forage here, to not only follow their foraging track in Lac Bay but also to have a chance of tracking them when they choose to migrate to their next foraging ground. It is assumed that as turtles grow bigger they need deeper waters for foraging, as bigger turtles have more buoyancy and thus difficulties to stay on the bottom in shallow areas. For the last 3 weeks the turtles tags are transmitting their GPS location via the Argos satellite and below you find a map of the first rough results of 1 of the turtles. This turtle is commuting between a patch of seagrass in the bay where it forages in the daytime and the deeper reef for resting during the night. At some nights the turtle was also spotted in the bay and it might sleep there too.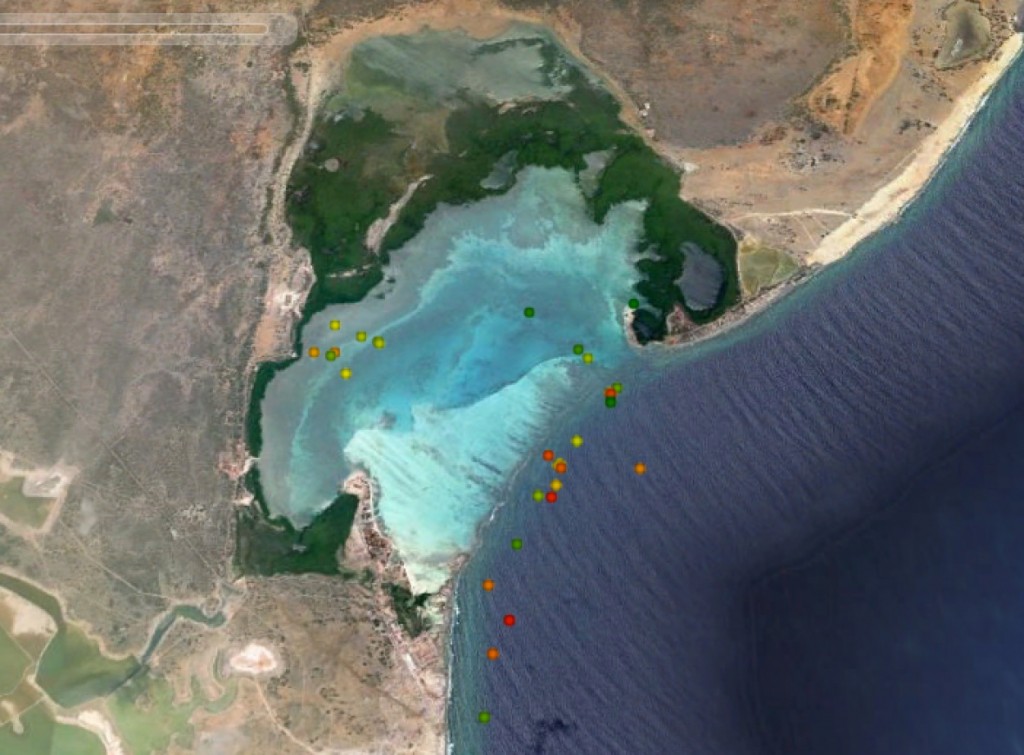 Are you diving in Bonaire and have you seen green turtles with satellite transmitters? Report your observations by sending me an email or respond to this post! Just describe, where and when you have seen the turtle. Which turtle did you see? You might have notice a mark? Every turtle has an individual colored mark next to the transmitter. Marks are: a blue "A", pink square, yellow triangle, white cross, red circle.
We are also interested in: the turtle's behavior, at which depth? Were the satellite tag and antenna still OK (see below) – turtles loves to scratch their backs to the coral. And .. please don't touch the turtle. Your help is much appreciated! Thank you!
Movie: Time lapse series of First logger placed on subadult turtle by STCB & RUG at Lac Bay Bonaire

Also Read STCB blogpost:The Beginning of a Great Partnership Two weeks ago Marjolijn Christianen and her team (Jurjan van der Zee and Sandra…Posted by Sea Turtle