How to reach Derawan Island?  The nearest airport is Berau (= Tanjung Redeb) and 2nd nearest airport is Tarakan.
1) Arrange a VISA first, and fly to Jakarta or Singapore, from there fly to Balikpapan or alternatively Tarakan
2) Take a morning flight from Jakarta – Balikpapan with Mandala, Lion Air, Batavia air, Sriwijaya or Garuda Indonesia (2 hrs, average price 700.000 IDR)
3) In this way you fly the same day from Balikpapan – Berau with Kalstar, Batavia air, Trigana, Sriwijaya to  (40min-1hr, ±600.000 IDR). *1 hour time difference between Balikpapan (BPP) and Jakarta (JKT). 1 of the 2 daily flights of Kalstar & Trigana transfer in Samarinda.
cheap alternative: 18hrs (or 40 rainy season) car from Balikpapan – Sangatta – Berau (rough)
4) Car (chartered or shared taxi) Berau – Tj Batu, 2.5 hrs, call driver Narton +6281346470104 for chartered (350.0000IDR) or regular (shared, 60.000IDR pp) taxi; airport pickup available
5) Speedboat Tj Batu – Derawan, 0.5 hr, ask your driver to call ahead for a speedboat should cost ± 250.000 IDR
expensive alternative: Berau -> Derawan: Directly take a speedboat (2-3 hours,  1-2.000.000 IDR)
See alternative travel routes (colors) in the picture below.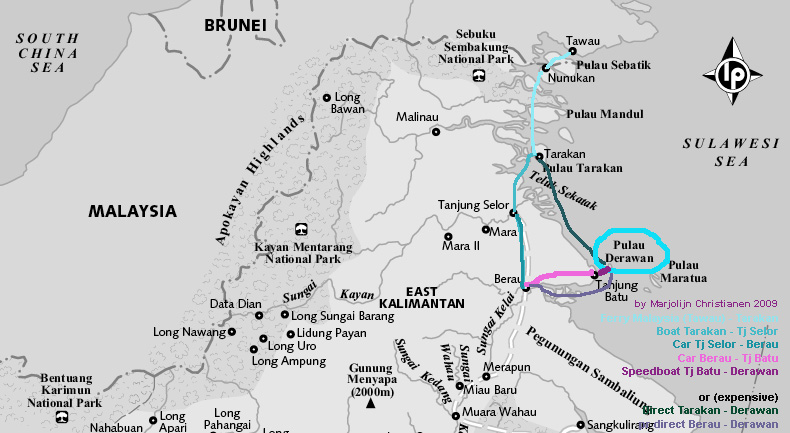 Coming from Malaysia?
1) Ferry Tawau – Tarakan (4 hours, 300.000 IDR arriving ±17:00hr), spend night in Derawan
2) Public boat Tarakan – Tajung Selor (1 ½ hr, 80.000rp/p)
3) Car Tj Selor – Berau (total car 800.000, fits 6-8 people, or sharter seat for 70.000 IDR)
4) Car Berau – Tj Batu (see above)
5) Speedboat Tj Batu – Derawan (see above)
expensive alternative: Tarakan -> Derawan: Directly take a speedboat (3-4 hours,  3-4.000.000 IDR)
After all this travelling: Compensate Climate  or get CarbonNeutral
Example travel time The Netherlands – Derawan:
Day 1-2; Travel Amsterdam – Jakarta (overnight flight), 1 night in Jakarta
Day 3: Early morning flight Jakarta – Balikpapan (Garuda/Mandala/Batavia?) connecting with Batavia air flight Balikpapan – Berau (=Tanjung Redeb)
Day 3: Call ahead to arrange car that pick you up from Berau airport to go to Tanjung Batu (trip: 2-3hrs)
Day 3: Call ahead to arrange speedboat Tj Batu – Derawan (trip: ±30 min)
The trip back could be much shorter because you do not have to stay overnight in Jakarta if you book a flight that departs to NL in the evening.
±6:00 am Depart with boat from Derawan early morning
± 7:00 Car Tj Baru – Berau
± 11:40 Flight Berau – Balikpapan (batavia)
± 14:00 Flight Balikpapan – Jakarta
±19:00 Flight Jakarta – A'dam
updated april 2012