The special thing about this research area (Derawan, Indonesia) is the high density of Green turtles (Bokok in bahasa Bajau, the local language). Last year we found 1 turtle per 30 square meters of seagrass. However on the different feeding grounds densities differ, possibly regulated by the availability of food, seagrass. In the last 2 weeks we visited 3 islands Derawan, Maratua and Pulau Panjang (east-Kalimantan, Indonesia) and we catched, measured, painted and tagged 300 turtles.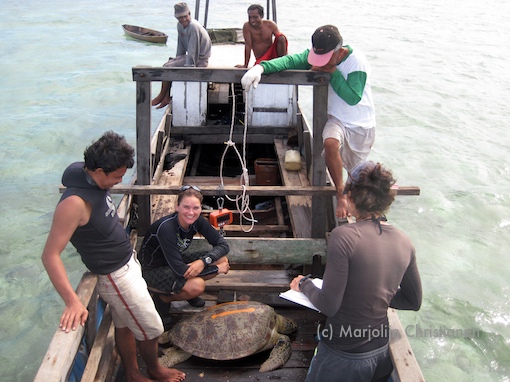 The sizes (of the carapace) ranged from 40 to 112 cm, the weight from 8 to 116 kg's. The most of them were catched in nets by a team of us; Sarah, Sjoerd and me, and 4 enthusiastic Derawanese locals in a fishermen's boat. For 3 days the local assistants of Pak Rusli from the WWF-TNC joint program Berau catched extra turtles with the rodeo method by jumping from a speedboat. The coming month we will try to spot our tagged/painted turtles back, so that we can learn about their movement and the population size. In addition we are also cooperating with Udayana University to study the population genetics of these turtles.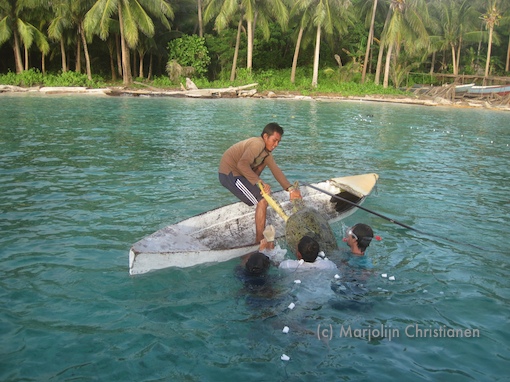 Transport of the turtle from the net – boat by kano.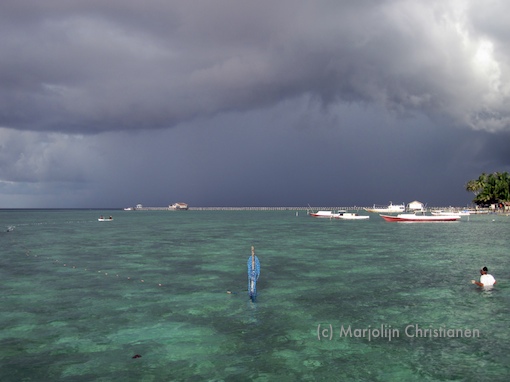 Even in heavy rain the crew is searching for turtles. See here the net of 100 meters in front of the village of Payung Payung, Maratua.